Another showcase pinup of the Heroes from the Lords of the Cosmos Team!
Icepaw the Polar Warrior, Orchamemnon the MechaFlower, and Ironshell the War Turtle.
Icepaw ended up being the easiest of the three, I was really plesae with the subtle facial structure I was able to learn about and then execute using reference of real polar bears. Ironshell brought out my inner Warhammer 40k geek of showing a gigantic war creature, and I feel I was successful in giving the creature a sense of grand scale.  Orchamemnon was hard, really hard.  The original creature description we made almost a year ago was very similar to Groot, so I moved away from that, and wanted to keep it a plant based character.  So I put a flower in a machine, which caused me to really get involved in the engineering of his mechanical transit robot body- rulers, compasses and drafting tools really became important.  I needed more space than usual to actually show the legs, arms and flower globe to the viewer- thus 3 characters not 4 or 5.  I am attaching the final pencils and the tracing paper I used to make sure that what you see works out with the parts that Icepaw hides with his bear sized body.
LORDS OF THE COSMOS… ASSEMBLE!
Enjoy!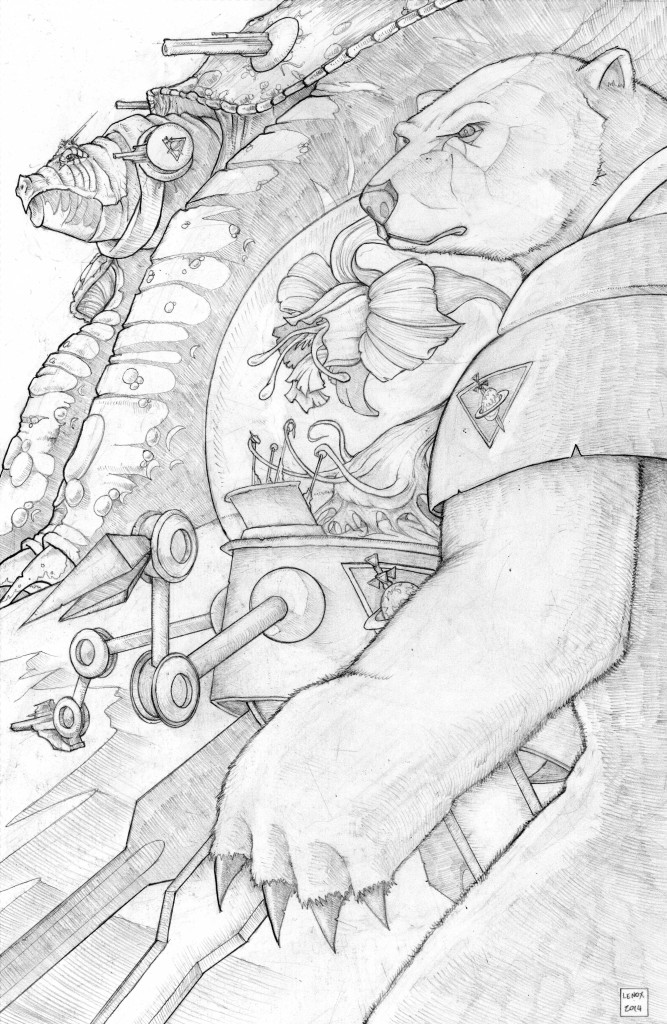 Tracing study of Orchamemnon's robot body- note my see through compass tracings to get the proportions, and mechanical engineering correct behind Icepaw!  I made a small sketch of the entire machine in the lower right hand corner for my own reference as I worked to find out "how would this thing work?"