So as I think back on my personal art journey I wanted to take a minute to think about this post as a quick look back in the rear view mirror from when I wasnt doing anything to kicking it into high gear for almost two full years at this point.
Since I looked back for a minute, I need to refocus on moving forward at high speed again…
Which brings us to another milestone : "Nittany Con #1".  For me NC1 was a personal achievement to help my good friend, cranky old  comics mentor and Marvel Comics Veteran, Ken Feduniwicz bring a real comic show to the Centre Region.  I've been doing shows and conventions on the road since June of 2012, and for me this was a true homecoming to bring my "evil circus" to where I live.  I've got some bigger shows to do this year as we build up to releasing "Painted Ladies of San Quentin" in UGLI Studios Presents #2, but this was a great time and some of my new cool art friends I've been lucky enough to meet on the way showed up to make it a party.  So here is the pre and post news coverage from the Centre Daily Times regarding the events- as well as a shot from me with Jessica Fenstamaker(Promotional Model and Metal Goddess) at the show….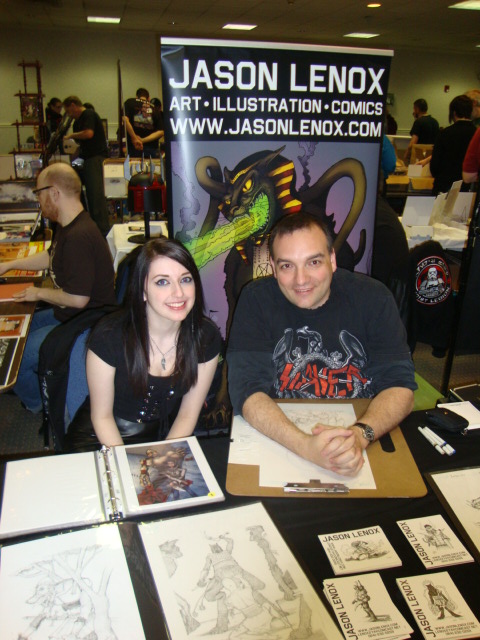 The Final Cherry on top…. they used my Bubblegum Crisis Artwork on the cover of the "Weekender" Magazine- which if you had to pick an image that really was about summing up of my great inspirations- Kenichi Sonada's Cyberpunk Masterpiece was it.  Enjoy the writeups on the show- and keep an eye out for NITTANY CON #2 in 2014!