This is a sample sequential page I did for Freelance Author Don Smith Jr. – I thought it turned out to be a pretty cool page- Don's script is after the pencilled page- enjoy!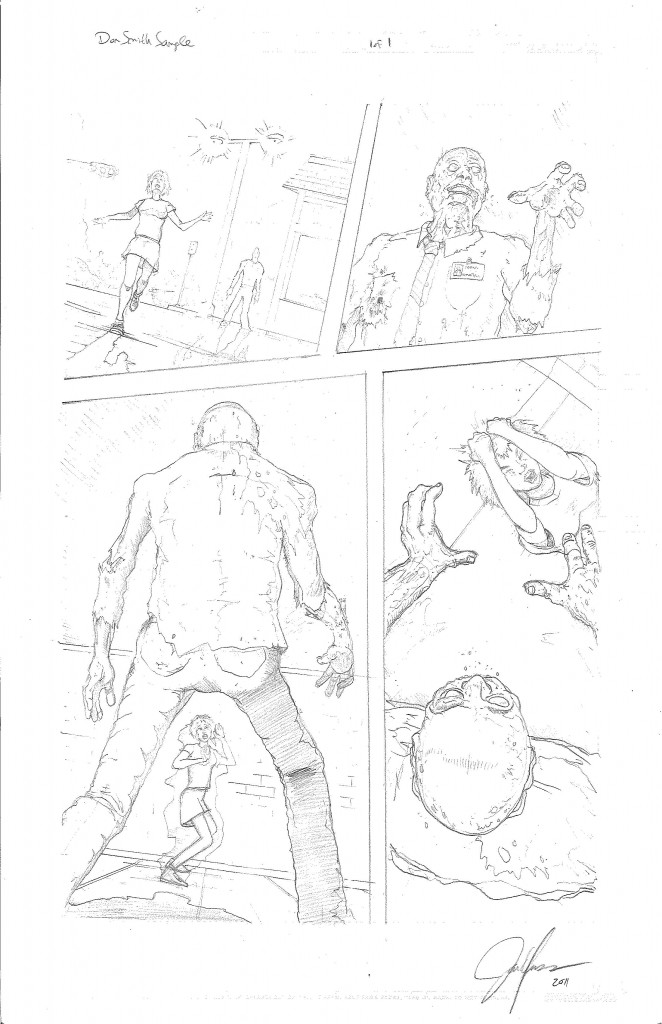 Sample 1 page—Zombie & Girl 
WE SEE A WOMAN RUNNING. SHE HAS LONG HAIR AND SHE IS A T-SHIRT AND SKIRT. SHE HAS A TERRIFIED LOOK ON HER FACE. WE SEE SHADOWS ON THE GROUND. 
SFX: Uhhhhhhh! Uhhhhhhhh! 
WE SEE A ZOMBIE. HE IS REACHING OUT. HIS FACE IS DECADE. HIS RIGHT ARM IS STRETCHED AND WE SEE BOTH FLESH AND SHIRT SLEEVE HANGING OFF. HIS LEFT ARM IS IN A CLAW LIKE POSE. 
WE SEE AN OVER THE SHOULDER SHOT OF THE GIRL AGAINST A BRICK WALL. SHE IS FRIGHTENED AND WE SEE THE BACK OF THE ZOMBIE'S HEAD. 
WE SEE THE GIRL ON THE RIGHT SIDE OF THE PANEL WITH HER HANDS UP TO HER FACE. THE ZOMBIE IS STRETCHED AND ABOUT TO BITE HER.  
ZOMBIE 2: AAAHHHH-UUUHHHHHH!
MAN OFF PANEL 1: Get away from her! 
Don E. Smith Jr. -Author